#SOULBROTHA @12FINGERDAN featuring @MC_Craig_G "The Hood Ain't Changed Much" @ILLADRENALINE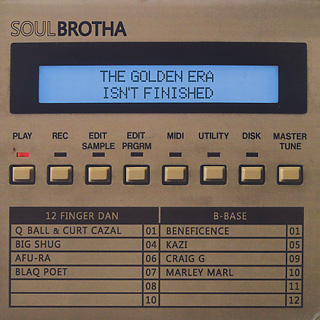 Soulbrotha teams up with legendary Juice Crew member Craig G. Taken off the Soulbrotha (12 Finger Dan & B-Base) "The Golden Era Isn't Finished" EP (vinyl/digital) and the limited edition 2CD-set "2009-2015", in stores now!
12 Finger Dan & B-Base aka Soulbrotha have carved a niche for themselves as a dope production and turntablist duo from Hamburg, Germany. As close protégés of producer icon DJ Premier, the veteran beatsmiths drop the boom bap filled EP "The Golden Era Isn't Finished", exclusively using the classic SP1200 beat machine. The EP comes special delivery courtesy of Ill Adrenaline Records along with first class guest appearances from Beneficence, Kazi, QNC, Craig G, Afu-Ra, Big Shug, Blaq Poet, and an intro from legendary producer and Juice Crew founder Marley Marl. All of the featured lyricists spit fire throughout the project: "Follow course of this rap dramatic theatrics. The vinyl sittin' pretty like that scandal actress" (Beneficence on "Flow 'N Facts"). The EP's 4 tracks and instrumentals are plenty to satisfy the hunger of true hip-hop heads worldwide as the EP's theme boldly states the golden era definitely isn't finished.
The limited edition 2CD-set contains
the critically acclaimed and rare "Collector's Item" album from 2009 (CD1) plus the previously released "Connexion" EP from 2013 and the brand new "The Golden Era Isn't Finished" EP (CD2). Produced, mixed, mastered, and arranged by the Soulbrotha duo, the 38-track strong 2CD-set entitled "2009-2015" features guest appearances from DJ Premier, Large Professor, Craig G, Kev Brown, Krumb Snatcha, Blaq Poet, Big Shug, Finsta, Afu-Ra, Marley Marl, Nutso, QNC, Kazi, Freestyle Professors, Beneficence, Sadat X, Reks, NYG'z, and many more. Raw beats and rhymes with plenty of dope cuts!