@Jennielaws "LOVE EASILY" @THXBeats
Yall know I love my home grown music so when I seen ( singer/songwriter) Jennie Laws I was proud to post her stuff. By the look of her you expect to have some Katy Perry type pop music. You are shocked to hear the soul in her voice and the depth of her writing.
Don't forget where you get the best indie music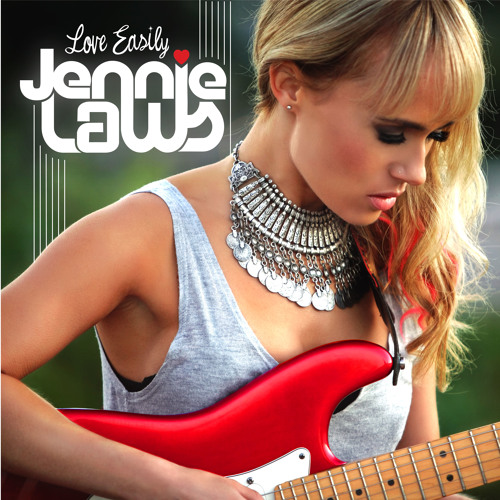 After several years of hibernating in the studio and working behind the scenes with some of the industry's heaviest songwriters and producers, Canadian singer/songwriter Jennie Laws re-emerges with her first release since her remix EP in 2010. The song is called "Love Easily" and it's a feel-good Motown-tinged jam co-written and produced with THX from the Bay area's Drop City Yacht Club and features The Regiment Horns of The Tennessee Kids (Justin Timberlake).
Also on her upcoming album will be a feature from Detroit Soul star Dwele, a song co-written with legendary songwriter Leon Ware, tracks produced by Jahi Sundance, Mateo Laboriel, Pascal Guyon, JL Brown, and Sebastian Rogers, more co-writes with songwriters Dayyon Alexander and Dylan Lloyd as well as a few performances by child prodigy drummer Tony Royster Jr. It promises to be entertaining, eclectic, musical, heartfelt and soulful from top to bottom just like her debut EP "Introducing Jennie Laws," except now Jennie has blossomed on a whole new level as a vocalist, songwriter, producer and arranger.
Jennie has played many roles as a musician; string arranger for the likes of Ryan Beatty, Anjulie, Jenna Andrews and Saidah Baba-Talibah, background singer for Michael Buble, INXS and Omar Lyefook, or featured vocalist and writer on rapper Promise, producer Luca Dayz and DJ KickRaux' new projects, but never does she shine so brightly as when she's doing her own music. This one-of-a-kind blue-eyed soul sensation hailing from Toronto is about to take the world by storm, starting with the release of her new single; "Love Easily."
Saturday, January 18th, 2014
LIVE MUSIC SHOWCASE EXHIBITION
with special guest judge from Island/Def Jam Records
at BARDOT HEIGHTS
[ 432 A 6th Ave. Manhattan, NY, 10011 ]
4pm - 9pm
21+
"Toronto singer/songwriter Jennie Laws has a versatile sound that incorporates r 'n b, jazz, folk and pop elements. Her convincingly soulful vocals have elicited praise from such greats as Narada Michael Walden and Leon Ware, and her talent shines on smooth new single "Love Easily". It has a full production sound, via THX of Drop City Yacht Club, including horns from the noted The Regiment Horns of The Tennessee Kids and backing vocals. This is an artist and single it's easy to love (and a striking blonde beauty isn't exactly a career negative!)." - Kerry Doole, New Canadian Music online magazine
"It was 2008 when I first talked with Canadian-born, LA-based multi-instrumentalist Jennie Laws. Her seven-song EP, Introducing Jennie Laws, was a soulful and blissful affair. Since then she's been working in the studio and writing with a variety of artists. Her new single, "Love Easily", will be released on January 7th on iTunes." - JW Richard, Groove Loves Melody online music magazine
"Jennie has grown so much, stating that the people who have watched her since the beginning describe as having come into her own. She's looking forward to live performances and the release of what she believes will be her breakout singles in the coming months…She has invested everything in her music and it's paying off." - Stacey Newman, Inside Milton Magazine
"We at hearty love women that can do it all, Jennie Laws is no exception to the rule-Singer, songwriter, composer, teleporter…okay maybe not but we wouldn't be surprised if she had some tricks up her sleeve that would allow her to bring us back to the good old days, her sound does just that! Jennie Laws is one of the freshest yet mature sounds we've heard in a while, mixing a pinch of classical flavor with a jar-full of soul. When the namedrops begin, remember "we told you so." - Kenza Chaouai , Hearty Magazine
"Her singing is truly soulful and heart felt...She playfully reminds me of Alicia Keys Baby sister...Why? 'Cause she's got a gift straight from God that the world will know in time as Genius. She is fearless in her piano prowess as well. Her arranging skills are something to make Arif Mardin proud. Her songwriting would touch the heart of the most high Genius Laura Nyro. And dare I say, even the hardened hearts of most music executives, would bow." - Narada Michael Walden, legendary producer and songwriter
"In a word,..Brilliance..Timeless, warm, soul stirring. How music was always intended to be." - Glenn Lewis, Grammy-winning R&B artist
"I hear a delicate sensuality with every heartfelt melodic choice
Jennie Laws makes in her vocal performances. I love this girl's voice.
The songwriting/production is honest and unpretentious. A homage to
the glory days of soul music. I look forward to watching the world
embrace this amazing artist! " - Eric Benet, Grammy-nominated R&B artist
"Jennie is fresh, talented, and beautiful from the inside out. Her musicality is undeniable and I look forward to creating some musical memories with her." - Leon Ware, legendary songwriter
http://www.jennielaws.com/
https://twitter.com/Jennielaws
https://www.facebook.com/jennielaws?ref=ts
https://myspace.com/jennielaws