Death Chamberz Music Interview Anvil
Death Chamberz Music Interview Anvil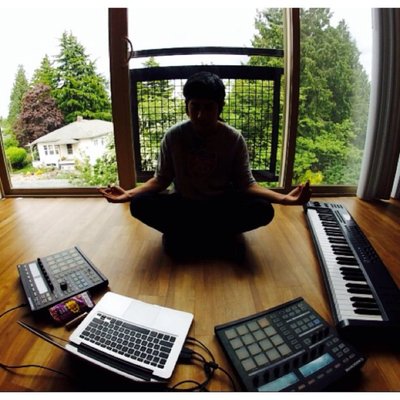 1.
How did you get your name?
"I actually got my name one day when I was in symphonic band and I was assigned a part too play the "Anvil" and I had already loved the name through blacksmith's because that was the main tool too create weapon's so it symbolized a producer too me and that's why I stuck with it.."
2.
What inspired you to become producers?
"The main reason I became a producer, was because I had loved music since I was in diaper's, I dont remember a day I wasn't jammin too music, So I had alway's wanted too take the name as a producer sooner or later.. My mom and step dad had split too and life ended up too struggling everyday, so the main worry was my mom and little brother's and who was gunna help, So I stepped my game up and became what I am today. So that's by far my main inspiration"
3.
When and how did you start?
And have you created any records yet? or mixtape?
"I started when I was 10 about too turn 11, I just messed around and ended up making a large file of track's that I had ended up losing, so I had stopped and when I went into freshman year, I had copped a Macbook and a Maschine, and got back at it, I had started making 4-6 beats a day and I was only 13 at the time, during that time and now I have been working on a 14 track album called "CHIEF" with my close friend Oshea Lee, Just released "The Danger Room" with Saga, completed about 200 beat's total, and now striving too meet tons of inspired artist like me and Saga, and just have a good run"
4.
What's your favorite thing to do when you aren't writing/producing/playing etc?
"Probably have to be chillin back with my mom and helping her out, or chillin with my nigga's and goofin around"
5.
Who are your musical inspirations?
"If I'd have too make a list of five... It'd have too be Eric "The Arc" Elliott, Wadada Leo Smith, Miles Davis, My Jazz ensemble teacher Robert McG, and Charles Mingus,
6.
What kind of music do you listen to today?
"Anything lately I have been listening too so much my life that I like everything, my main though, is Jazz"
7.
What surprises would we find in your music collection?
"That most of my tracks out now are stuff I have finished when I was 15, so if ya'll mess with that, be ready for the newer stuff!"
8.
Todays music is about collaborations what "hot" rapper out now, you would love to work with on a project?
"I'd have too say Eric The Arc Elliot, because not just musically I can relate too that man.. Through his songs, I have found out a lot of thing's that we have both experienced and how similar we are, I even found out that me and him are born on the same day, August 12th, and we both are producer's so I feel like me and him would automatically click and make master piece's."
9.
What do you think your listeners will get out of your music?
"Hopefully positivity or inspiration, I put a ton of my soul in the song's so I really hope my listener's will feel what I felt when I made the song"
10.
What do you hope to do with your music?
"Show my youth that anyone can make their dreams come true if they put there all too it"
11.
Where do you see the generation heading?
"Not in a great place right now and I can admit that because I'm 16 and seeing everything go down is not what I want so I hope through me being young and making music it will encourage everyone too make a difference and fully reach there goal's like I am"
12.
Is there any advice you'd like to give to young aspiring artist ?
"Keep striving too your goal's and you will see good thing's in your future for sure."
13.
What projects should we be on the lookout for in the near future?
"Oshea Lee's "Chief" album all produced by me will drop in August, Moor Gang's Mackned is gunna use a hot track produced by me for his next project date for that is still unknown, and my label partner Rob Sim's "Clear View EP" drop's 7/11/14
YES, SHOUT OUT TOO MY NIGGA's Frezzy, Milkcrate, Oshea Lee, Rob Sim's, Mike Lupo, Saga Breeze, MOOR Gang, Key Nyata (Cosmic Dad), Mackned, SneakGuapo, GROUP Nation's Kincaid and Corinthian, The Prospect's, Steady On The Clock Entertainment, Native Instrument's for the best production gear ever and my Mom