SUPAH RELEASES OFFICIAL REMIX OF GHETTO HOUSE LEGEND DJ DEEON'S "SOUTH SIDE"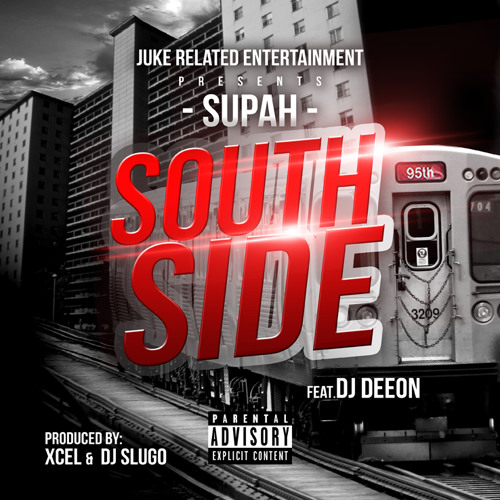 Donda's House alum and Juke Related artist, Supah, has released the official remix of DJ Deeon's classic 90's Juke track "South Side" (Dancemania Records). Produced by Xcel (Gettin' Some Head, Watch My Feet) & DJ Slugo (King of Ghetto House), "South Side" (2014) finally defines a new sound for the Juke (rap) genre.
Godfather of Ghetto House, DJ Deeon, and Tribe National (Footwork Crew) Co-Founder, Supah, have come together to revive this unofficial anthem for the "South Side" of Chicago. The original track, released in 1995, sparked a lot of controversy because of its infamous shout outs and the manner in which it negated the West Side (of Chicago). Two staples in Chicago's music scene, Xcel and DJ Slugo, collaborate for the first time and came up with a sound that rejuvenated old school Ghetto House & Juke music, while incorporating edgy, bass-filled Hip-Hop elements. Supah delivers the perfect combination of hot bars and catchy hooks, and even included classic Juke chants on this 2014 remake. The end result is a party anthem that is sure to spark some of the same controversy as the original, while invigorating "South Sides" everywhere….
Supah is 19 years old and a rising sophomore business major at St. Xavier University (Chicago, IL). His biggest musical influence is Jay Electronica and he often gets compared to Kendrick Lamar and J. Cole. He will be releasing "SouthsidEP" in July 2014 and it will feature fellow Chicago artists such as Lil Herb, King Popo and production by Young Chop. The video for the EP's first single, "Something Spiritual", was shot by A Zae Production and can be viewed at
http://youtu.be/7WS2lg9D8hQ
.