Death Chamberz Music Yung Rep @ItsRep
Death Chamberz Music Yung Rep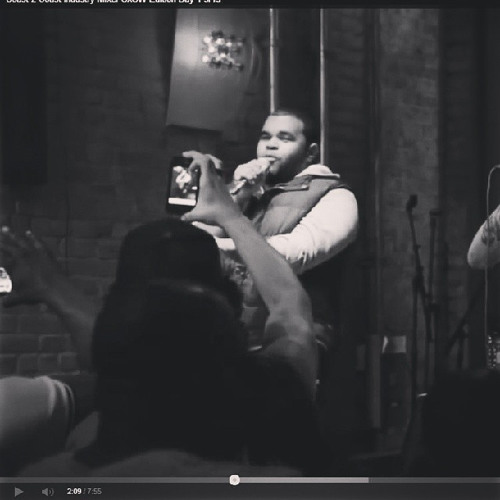 1. How did you get your name?
- I moved from Philadelphia to Texas when i was 16 due to all the trouble i was getting in. Even tho i left Philly, everything i did, everything i said was a representation of the area i grew up in. Everybody in Texas knew me as Philly. When i started rapping i went through numerous names but Rep stuck out to me because even tho i didnt do it on purpose i also represented my city and the people who helped mold me from Philly.
2. What inspired you to become a artist?
- When i was kid i was always in trouble man. Kicked out of almost every school, getting arrested, getting in fights almost everyday. Writing music was really my only escape, my only way to calm down and relax. A friend who wanted to manage me when i was 15 ended up getting me a microphone and since then ive been rapping.
3. When and how did you start? And have you created any records yet? or mixtape?
-15 is when i started but i didnt take is seriously as a career until i got offered my first distrubition contract when i was 18. I have 2 projects released as of now which is No Baggage which did extremely well and The Transition. Both projects can be heard on datpiff.
4. What's your favorite thing to do when you aren't writing/producing/playing etc?
-To be completely honest i love writing music. Its my favorite thing to do, so thats usually what im doing even in my down time. If im not working on a project im usually back in Philadelphia trying to think of new inspirations for my music.
5. Who are your musical inspirations?
-The whole Philadelphia scene is really what inspired me to write. Everybody from Cassidy to Beanie Sigel all the way to the underground artist like Kaboom and AR AB. Outside of the Philadelphia scene Kanye West would have to be my biggest musical inspiration.
6. What kind of music do you listen to today?
-Of course i listen to alot of hiphop but i try not to limit myself to one genre. When i feel uninspired with music i like to listen to all different types of music.
7. What surprises would we find in your music collection?
James Blake most definetly. In my opinion he has one of the best discographies
8. Todays music is about collaborations what "hot" rapper out now, you would love to work with on a project?
-Its not too many "rappers" that i would really love to work with but if i had to choose it would be Kanye and J Cole.
9. What do you think your listeners will get out of your music?
-My listeners are going to get me. My soul, who i am at my core. Every single song i write is what i am going through currently or have gone through in the past. So if they relate to my music, they relate to Yung Rep.
10. What do you hope to do with your music?
-I hope to be one of the best when its all said and done. I write music because its my passion....im not doing it for the fame or fortune, but i do want to be one of the best at it.
11. Where do you see the generation heading?
-Musically i think its headed in a creative direction. Outside of music my answer would be the same. Its so many different ideas being created at a fast pace due to technology and the use of the internet. I think this is the generation of creativity.
12. Is there any advice you'd like to give to young aspiring artist ?
-Make sure that you love what your doing and you're not just chasing what you think are riches and fame because you'll end up disappointed. If music is what you truly love tho never let anybody tell you that you cant obtain that dream.
13. What projects should we be on the lookout for in the near future?
-My Project "Everything Copacetic" is dropping in May and Mike Milli's "Black Cloud" should be dropping sometime this summer.
-Shoutout to you guys for giving me a platform to give new fans my music. Mike Milli, i feel like if im not next up he's next up. Of course shoutout to Philly, yall are who i do it. Loner Gang!