RED EYE Mixtape @RedProdigyMusic @DefinitionDJs @DJTuss @OfficialDJQ @djwildhairr @Iamdjsteel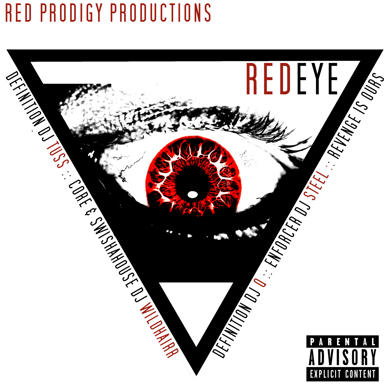 The music industry consists of millions of new artists striving for one common goal – worldwide recognition and SUCCESS!
Diminishing financial resources against constant demand for high quality product, usually results in high turnover rates for artists trying to achieve that goal in the music industry. Using musical talent, creativity and hard work, four artists hailing from San Antonio, TX are determined to beat these bleak odds!
It started in 2009 when music producer/artist the production house, Red ProdigyTM , and released their first single - "Homegurl" featuring the rapper, "Bone". As luck would have it, the single proved to be a HIT! Generating enough buzz, "Homegurl" charted on the Billboard Hot 100 Hip Hop/R&B charts for nineteen weeks, as well as reached a radio audience of over nine million people! Furthermore, "Homegurl" managed to grab the attention of Antonio "LA" Reid, former chairman of Island Def Jam Music Group, resulting in an instant record deal for "Bone". Red ProdigyTM is at it again with their new hit single "1 UP" that has made an impact
by placing on the Top Indie Charts in big record pools such as Funkmaster Flex's Franchise Record Pool, along with features in press such as Hip Hop Weekly and shout outs from various DJs and radio personalities. DJ Trigger Finger from Germany raves, "Speechlees - nice thang – I'm luvin it ! Great melody, flow, vibe and differences between instruments!" and DJ JRock of Core DJs simply states, "Hot!". Now in 2014, not only has the team added new members Bambu, Rosebudd & Yung Mavrick – but the team is also back with two smash hits: their first single/video "1 UP", and their second single, "I'm Home". Also, their new mixtape, Red Eye, drops on March 11th. 2014. Against all odds, Red ProdigyTM is ready to lay a solid music foundation and are well on the way to worldwide recognition and SUCCESS!