@PozLyrix "Thrid Shift" @dreamtek7 @7oddz
Check out the new track from Pozlryix
Some straight Hard banging beats and bars track.
Ride the beat pretty good basic constant delivery good energy
Nice hook
Don't forget where you get the best underground music Death Chamberz Music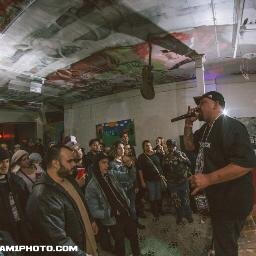 "Thrid Shift" from Chicago artist Pozlryix.
Pozlryix is preparing to release his first solo album "Chicago Native"
From the album: CHICAGO NATIVE
Written and performed by: PozLyrix
Produced by: DreamTek
Video by: A-Lex (A Walk In Da Park Productions)
Seven Oddities Records
www.7oddz.com
PozLyrix
Born and raised in Chicago, the Native American mc was inspired by golden era hip hop and the gritty underground scene in Chicago that reflected the era. Developing his craft in the same scene that inspired him has shaped him into the MC that we see before us today.
Coming out of the seven Oddities camp, Pozlyrix already has a heavy amount of features under his belt. Collaboration with Scenic Roots and A Walk in the Park productions formed the group "Bottom Dollar Scholars" that gave Poz his first taste of being an MC beyond the studio releasing a video and traveling around the city of Chicago and east coast to hit the stage. 40 oz Kings, another group out of Seven Oddities that Pozlyrix was a part of helped expand his music career. In 2011 the group entered "Toast of the coast", a competition that would give the winner a performance slot at the North Coast Music festival in Chicago. After the first step which consisted of a few days of online voting they moved onto to a battle of the bands type of competition. After showing they were better than 100 other performers, the 40 oz. Kings came out on top and were in the 2011 North Coast festival lineup among acts like Common, Rjd2, Wiz Khalifa and David Guetta.
Having gained experienced, confidence and expanding his artistic spectrum, Poz has ventured into his first solo effort. Chicago Native is the first solo project for Pozlyrix. A sample heavy album filled with gritty boom bap landscapes allows the MC to paint complex pictures of the life of an MC in an iconic city
Social media links