MXSFLXWETICZ @ZLRMFZ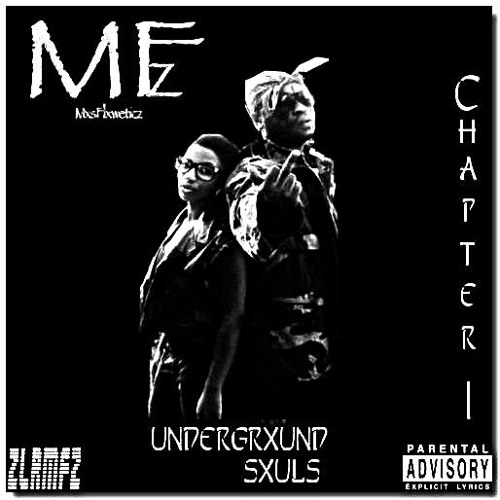 U.G.S.I. 'Undergrxund Sxuls Chapter I' is the first chapter and introduction into the artistry of MXSFLXWETICZ, a duo Hip Hop and Neo Soul group consisting of MF FLXW and MF PHILXW. Together they use their intellect along with a variety of unique sounds and rhymes, to create an audio art gallery with no songs worth skipping. With 'Undergrxund Sxuls Chapter II' scheduled to be released

June 27th 2014

, you would never want to miss the first chapter of any good book. Production credit to J Dilla, Karriem Riggins, CcreapMurda Prods., Skipless , Missy Elliott , GMF Music , Da Grassroots and Raphael Saadiq
Ever wondered what happened to Hip Hop groups ? Not the ones we are all forced to listen to through mainstream , but the great ones like Digable Planets , ATCQ, The Fugees, Outkast , etc . Just when you thought there was no hope for the youth , no hope for the growth of the culture of Hip Hop, emerges a duo group by the name of MXSFLXWETICZ. Signed to the their own indie label Zixn Lyfe Records, MXSFLXWETICZ consists of two artist(s) by the names of MF FLXW & MF PHILXW.
Hailing from Chicago, IL comes MF PHILXW with her ( yes her ) spoken word , and poetic rhymes mixed with soulful vocals.
When asked what makes her different from other female emcees she stated " I believe my mind is the most beautiful thing about me , and that's what I try to relay through my music (art) , versus being an over sexed image ".
By way of Alexandria, LA comes MF FLXW with his southern lyricism, and deeply harmonized vocals.
When asked what makes him different from other male emcees he stated " I feel very prideful about my art, as a highly self educated human. Sometimes I even feel like I'm a genius with the caliber of wordplay and thought process that I put into my music (art). Deriving from much seen and much heard."
Given a descriptive blueprint into the minds of MXSFLXWETICZ and their art, one would have to ask the architects themselves. "First and foremost being best-friends, in a common- law marriage, raising a child, and are self- proclaimed students. Studying the art of music and the very essence of Hip-Hop and Neo-Soul, we like to also think that we are activists with the message of justice and knowledge. And it's not for the weak, but the very strong minded. Thus forming what we call BLACK PXWER. Simply meaning, our movement of bringing together not just black people but all people in educating/awakening them into racism, stereotypes, racial profiling, black on black crimes, love, faithfulness, marriage, and soul selling. We merge BLACK PXWER into everything we record. It is an audio visionary clear speech into how we feel about everyday life. We feel we are the antidote to what the music industry needs, not even just our genre (Hip-Hop/Neo-Soul) but to all. We aren't these every other day trendsetters, we are trendsetters in the fathom of knowledge and wisdom not our wealth, fashion, or possessions."
Having a clear love for the nostalgic sound of the 90's, truly believing this is when music was at its peak (golden era) and striving to bring back (but not repeat) the good in music. A complete opposition to the current state of the music industry. Reverting the underground aka the talented back to the top and declining the demand of the talent-less aka the mainstream. If you are those people that complain about the current state of the music industry and don't want to sit on your butt and do nothing about it, support the movement of ZLRMFZ (Zixn Lyfe Records x MXSFLXWETICZ).
To really truly know the foundation of this new duo you would have to open your eyes, your minds, and ears to their music (art).
U.G.S.I. 'Undergrxund Sxuls Chapter I' is the first chapter and introduction into the artistry of MXSFLXWETICZ, a duo Hip Hop and Neo Soul group consisting of MF FLXW and MF PHILXW. Together they use their intellect along with a variety of unique sounds and rhymes, to create an audio art gallery with no songs worth skipping. With 'Undergrxund Sxuls Chapter II' scheduled to be released

June 27th 2014

, you would never want to miss the first chapter of any good book. Production credit to J Dilla, Karriem Riggins, CcreapMurda Prods., Skipless , Missy Elliott , GMF Music , Da Grassroots and Raphael Saadiq