DGainz - Moon Music @dgainz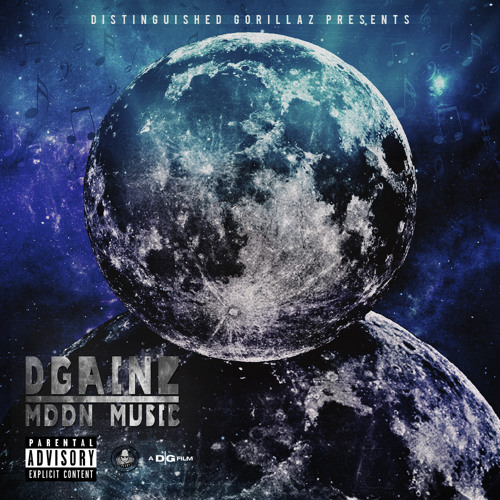 DGainz
gets from behind the camera to embrace the mic with his 2nd Album "MOON MUSIC".
It's definitely out of this world. Watch him enjoy some time on a different path from the other side of the lens.
Duan Gaines (born November 3, 1988), professionally known by his production name DGainz, is an American director, record producer, talent scout, entrepreneur, and occasional rapper. Sparked by music in 2004 and videos in 2009, Chicago native DGainz is a mogul in the making. Introduced to music production by friend Evin his uncle and younger cousin "Lil Kenny". They are mainly where the inspiration came from to start taking music production seriously. Ready to work, Gaines shot his first video on a cell phone because his funds were not sufficient enough for a professional camera.
Gaines is the co-founder of DGainz Productions, Inc. He is responsible for helping artists' King Louie (Epic Records), Chief Keef (Interscope), YP (Universal), Lil' Durk (Def Jam), Spenzo (Atlantic Records), Chin Chilla Meek, Sasha Go Hard and many more gain notoriety in the music industry by directing their videos and getting them noticed by major record labels.
When asked about the violence in music today, Gainz responded "I don't condone violence, but I do respect the freedom of artistic expression. If I feel the music, then I don't mind shooting the visuals for that particular song. I shoot positive and inspiring videos as well, it's just the street ones get more views sometimes." According to Gainz' agent Vincent E. Norment, "Good music is undeniable regardless of what genre it is."
Self-trained, DGainz has released over 80 videos in 2011 and gained over 3 million views by the end of that same year, as well as over 160 million additional viewers and 213,000 subscribers to date (2014). DGainz has worked with major labels such as Universal Music Group, Interscope, Def Jam and Epic/Sony to name a few and has recently been interviewed by MTV Chicago Sucker Free Count Down and featured in big name magazine & online present such as Spin, Vibe, Source, XXL, Complex, WorldStar Hip Hop, Red Eye, Fade and Hip Hop Weekly for his major contribution to the new Chicago movement. Arguably creating the spotlight on the city.
DGainz, 25, embodies the city's newfound hustle perfectly. As a video director, he captured the gritty energy of drill music in many of the subgenre's most popular clips, including "Chief Keef's I Don't Like & Love Sosa"; as a producer he's crafted local standouts like King Louie "Money Dance", Lil Durk "I'm A Hitta"; and on top of all that, he's about to release his first single, "Me Against The World" on his own label along with newly signed artist PATMAN "Son of Chicago", Yoshi, King Caesar, Lil Chris and Jay2 'The KiDD Classic' in 2013.
As a director, Gaines is credited as a key figure in the popularization of bopping, the slang term "Thot" and the style of music visuals characterized as edgy with fast pace cut scenes. No video has given bop a bigger boost than King Louie's "My Niggaz," a DGainz production that features Travon "Lil Kemo" Brigg showing off his moves- it's racked up more than a million views since its release January 2013. The video has given Biggs a boost too. Known as the Thot leader, DGainz popularized the term on social media in 2012, and recalls transforming it into a tending topic on Twitter.
DGainz co-founded and CEO of Distinguished Gorillaz Records an independent record label with his agent and business partner, Vincent E. Norment. DGainz future career goals are continue directing, producing and establish his rap career and identifying new talent locally and worldwide for his Indy record label. DGainz is now working on his first book and motion picture with ViaCrossercy Productions called "Three". His latest project and partnership with Black Pages International is Building A Dynasty 2014-2032.