@vocabslick "SOMETHIN' SLICK" featuring @kye_the_guy prod by @bryconmusic | animated by Unjust @distantrelativs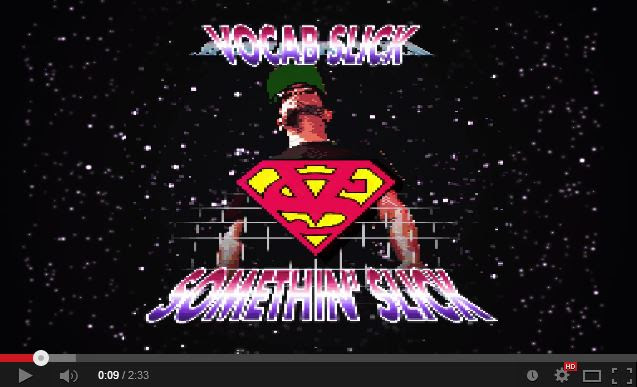 Vocab Slicks new single ''Somethin' Slick'' The Title track off His new EP . The Videos an 8 bit game jumping adventure from Vocab Slick. Directed and Animated by Hieroglyphics Imperium producer, Unjust.
*Song By Vocab Slick (feat. Kye The Guy) and Produced by Brycon
* Video Directed and animated by Unjust
VOCAB SLICK - "SOMETHIN' SLICK" OFFICIAL VIDEO (ft. Kye The Guy, produced by Brycon)
Bay Area, California rapper and Distant Relatives member Vocab Slick presents the music video for "Somethin' Slick", the Brycon-produced new single from his
Somethin' Slick
EP. The "Somethin' Slick" single features a guest appearance from fellow Bay Area artist Kye The Guy. The music video - created to appear to be an 8-bit video game - was put together by Unjust of Hiero Imperium from scratch using a combination of Photoshop and after-effects. Besides Brycon, the EP features production from Hg Beats, Yoyo Ox and Bobby Ozuna as well as guest appearances from Joe Mousepad and Slick's partner in Distant Relatives, the late Maynee, who passed away during the making of
Somethin' Slick
, as did Slick's mother and uncle. "The project came about after a conversation I had with Maynee," says Slick. "We were talking about how we have been really humble with our approach to music thus far, and we came to the conclusion that it's okay to be cocky, without being an a**hole. So I began making these songs with a real braggadocious and confident approach and it felt good." Explaining his creative process for this video, Unjust says "I would downsize the imagery, then change the color mode to indexed color, then re-enlarge it. Once in after effects, I would apply a combination of filters including mosaic and contrast as well as others to give the footage a pixelated grainy look. I also overlayed a blended layer of digital noise i created just to further the effect of being glitchy and arcadey. But the most time consuming was re-creating the actual gameplay of a few of my favorite games - T&C surf, Zaxxon, and Ninja Gaiden. I made high resolution screenshots of the gameplay, recording me actually playing these games. Then I masked the main character of the games out frame by frame using the cloning tool, and tweening. After the main character was masked out, I overlayed Vocab's character over, again frame by frame." Regarding the loss of Maynee, Slick says "I feel it's my duty and privilege to continue the work we both started. I've turned the pain inwards and focused that on working harder then ever before."
Somethin' Slick
is out now on
iTunes
.
Somethin' Slick
EP on
Soundcloud
|
iTunes
VocabSlick.com
|
DistantRelatives.net