@LifeofSmorris & D2LALMMC Presents: Welcome to the Dean's List Vol.2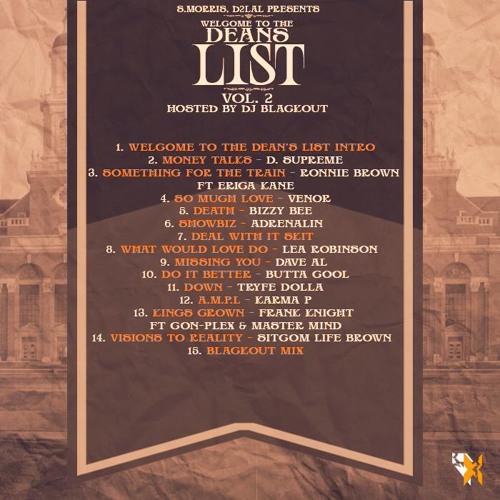 The Dean's List
is a traveling showcase of the best underground artists in the New York City area, making stops at more than 25 schools. The 2nd Annual tour kicked off October 3rd, 2013 and runs through

April 30th 2014

.
The Dean's List
is the brainchild of John Jay student and renaissance man,
Nigel " Scott Morr
is " Guscott.
In 2011 he envisioned a college tour that would serve as a unifying factor among students and the NYC youth community at large. The tour has come together through a collective of students working as campus liaisons, to conduct rigorous auditions and secure our relationships with each school.
Steaming Link:
Download Link:
1. "Welcome to the Dean's List Intro"
2. Money Talks by Deshawn Supreme
3. " Something for the train featuring Erica Kane" by Ronnie Brown
4. "So Much Love" - Venor
5. "Death!" by Bizzy Bee
6."Showbiz" by Adrenalin
7. "Deal with it skit"
8. " What Love Will Do" by Lea Robinson
9. " Missing You" by Dave AL
10. " Do it Better " by Butta Cool
11. "Down" By Tryfe Dolla
12. "A.M.P.L (Let A N Work Prod. By Dynasty)" by Karma P
13. "Kings Crown featuring ConPlex & MasterMind" by Frank Knight
14. " Visions to Reality" by SitcomLife Brown
15. Dj Blackout's Mix
Hashtag #DeansLT after every post!
Contact Links:
ScottMorris- @LifeofSmorris