@WhatsGoody_ – All I Know Produced by @1stFrom92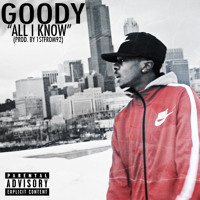 The message behind All I Know derives from the importance of motivation and continuously progressing to make dreams reality. Goody's intention was to inspire his listeners in their everyday quest to conquer goals.
GOODY
releases "All I Know," the first single off his debut project 21 (To Anyone). In a day and age where artists are quick to comply with popular trends, Goody provides a unique and refreshing soundtrack to the streets of the windy city. His music provides listeners with a window seat into the life of a young male growing up on the streets of Chicago. Inspired by the introspective lyricism of 90's hip-hop and R&B, Goody is prepared to lead the resurgence of quality hip-hop music with a message.