@LifeofSmorris & D2LAL Present: Welcome to the Dean's List Vol.1
Wow Check out arguably the best release on the page. Just the professional production mix and master of material puts it above allot of internet tracks. The track is definatly more mainstream leaning than going for the underground. But the artists are all indie artists so love help promoting. We got a mix of hip hop R&B etc. Some great songs
Favorite tunes
Catch Me Slipping
Hey Girl
Make You Dance

Don't forget where you get the best indie music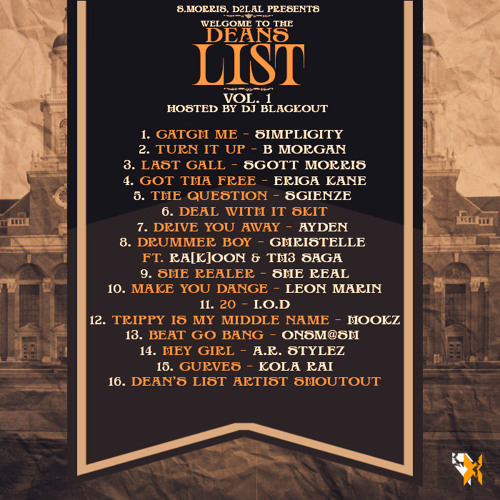 The Dean's List
is a traveling showcase of the best underground artists in the New York City area, making stops at more than 25 schools. The 2nd Annual tour kicked off October 3rd, 2013 and runs through
April 5th 2014
.
More than 50 artists across a spectrum of genres (hip-hop, dance, R&B, soul, spoken word) have been chosen to participate on this tour.
The Dean's List
is the brainchild of John Jay student and renaissance man,
Nigel " Scott Morr
is " Guscott.
In 2011 he envisioned a college tour that would serve as a unifying factor among students and the NYC youth community at large. The tour has come together through a collective of students working as campus liaisons, to conduct rigorous auditions and secure our relationships with each school.
Track List:
1) Welcome to the Dean's List Intro
2) catch me - simplicity
3) Turn it Up - B morgan
4) Last Call - Scott Morris
5) Got Tha Free - Erica Kane
6) The Question - Scienze
7)Deal with it skit
8) Drive You Away - Ayden
9) Drummer Boy - Christelle ft Ra[K]oon & Th3 Saga
10) She Realer - She Real
11) Make You Dance - Leon Marin
12) 20 - I.O.D
13) Trippy is My Middle Name - Matt
14) Beat Go Bang - OnSm@sh
15)Hey Girl - A.R. Stylez
16)Curves - Kola Rai
17) Welcome to the Dean's List Outro
18) BlackOut's Exclusive Deans List Tour Vol.1 Mix
For More info on TheDean'sListTour:
@LifeofSmorris