DeathChamberz Music interview of Farrah Washington
DeathChamberz Music interview of Farrah Washington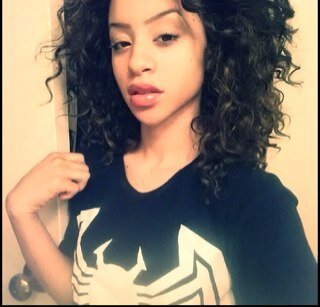 1.
How did you get your name?
My mother got my name out of a arabic and liked the meaning of it, which is beautiful, most talented.
2.
What inspired you to become a artist?
I also loved to entertain and put on a show as a young child. My mother and grandmother always use to sing to me and my family is full of musicians.
3.
When and how did you start?
And have you created any records yet? or mixtape?
I started at the age of 6, with learning how to sing with my grandma and putting on talent shows in school. I started recording at 14 on myspace.
4.
What's your favorite thing to do when you aren't writing/producing/playing etc?
I like to relax and read a book or go out with some friends and just chill.
5.
Who are your musical inspirations?
Sade, Whitney Houston, Lauryn Hill, Luther Vandross, Stevie Wonder, & Isley brothers
6.
What kind of music do you listen to today?
I listen to trap music, I love Juicy J, Rick Ross, Rihanna
7.
What surprises would we find in your music collection?
You would find System of a Down, Korn, Nine inch nails, & Coldplay. I love those artist.
8.
Todays music is about collaborations what "hot" rapper out now, you would love to work with on a project?
Kendrick Lamar, he is definentely dope and he's from Cali! Represent! lol.
9.
What do you think your listeners will get out of your music?
They will get a chance to vibe and relate and learn about me as a person.
10.
What do you hope to do with your music?
I hope to bring people that can relate and build a bigger fan base.
11.
Where do you see the generation heading?
The generation will be heading to a full independent movement because they are influenced by music more so then their parents today.
12.
Is there any advice you'd like to give to young aspiring singers/artists ?
I'd tell them to work hard, you have to zone out opinions and just believe in your craft.
13.
What projects should we be on the lookout for in the near future?
My project is coming out in January it's called "Neoteric"
Shout out to my bro, Swaggz! Shout out to my mother & shout out to Cali!! Love all.
Farah Joycelyn Washington was born on August 6 in Riverside, California. It pronounced "Fah-rah and means the " most talented and pleasant" and she is willing to live up to it.At the age of 5 she moved to Los Angeles. The star began to sing and master her dream. Farah's first song learned was "You are so Beautiful" by Babyface. " I always went around the house singing that song" she said.
Then at age of 11 years old she performed her first show at a Family Reunion. She sang" Tommorow" by the Winans. Then thats when she knew that she wanted to follow this path, "I told my mother that I wanted to embark this path and she was with me all the way". Then she got vocal lessons, That's when she got her start in becoming a star.Then at 12, She had done a talent shows. Then her brother Cedrick Washington joined Team Farah and start writing and recording her music. He start helping her promote and giving her advice on her music. She calls him her "Creative Consultant".
Then her older cousin "Cameron" decided to make a label and her brother helped come up with the name "Visionground". They signed Farah to Visionground at the age of 11. She was their first artist. Then she start making tracks for the demo.
She went to audition in HollyWood and tried out. She did a small commercial skit and they wanted her right away. Robert John Powers was what she had auditioned for but she didnt take it. Then after Visionground starting contacting people like Soulpower and Timberlands Music Group. Soulpower and Timberlands Music replied giving her tips and Soulpower gave her a number to get in contact.
"I have been on stage with Stephanie Mills and sang with her for a lil...It was a Christmas play and she held my hand. One of the moments I will cherish in my life" Farah says. It was a moment that she would never forget because she admired her and her mother was very well into Stephanie Mills. 09!! New Year for her! Recently we have been working on her album that is going to be released in the end of May! "All the songs that are on the album I've written or co written" Shows for her will be starting really. Right now we are also looking for shows for the artist so be looking out if we are in your area. She finished her Freshman album "Actions Speak Louder Than Words" Which is still going to get promoted.
Farah is now just working on making new songs and still trying to get noticed. She has done radio shows online promoting herself and the album. Recently she continues working on her journey and we hope you and everyone continues to help. Thank you.