@ChuckieC2 More Die of Heartbreak @WillieBreeding @duanelundy @WillieGreen1 @AmirValinia
Check out the new video from Chuckie Campbell. I gotta say when I got the description I really wasn't expecting a white guy.
Some good concept on colors in the verse. Flow isn't crazy but it's great lyrically
Love the video the black and white look is crazy Great shots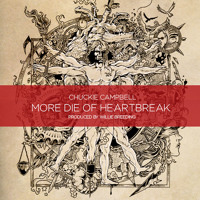 Written by Chuckie Campbell for Sunsets and Silencers Music in Buffalo, NY
Recorded, produced, and mixed at True Blue Recording by Willie Breeding in Nashville, TN
Mastered by Paul "Willie Green" Womack at The Greenhouse in Brooklyn, NY
Additional production and engineering by Duane Lundy at Shangri-la Productions in Lexington, KY
Additional engineering by Chuckie Campbell at Sunsets and Silencers Music, Buffalo, NY
"Synesthesia" appears on Chuckie Campbell's full length album, More Die of Heartbreak
Video Written by Chuckie Campbell & Amir Valinia
Video Produced and Directed by Amir Valinia for AV1 Productions in Houston, TX
The Pierce-Arrow Film/Arts Center Buffalo, NY
Chuckie Campbell To Release "More Die of Heartbreak"
Feat Wu Tang Clan Members
More Die of Heartbreak, borrowing its title from nobel prize winning author Saul Bellow's novel of the same name, is an experimental hip hop project written by myself and produced entirely by Willie Breeding of the country/rock duo The Breedings out of Nashville, TN. In addition to my own contribution, the album features highly notable guest appearances from members of the Wu Tang Clan, Cappadonna and Solomon Childs, Cole Jonique of Tate Music Group, Erin Breeding of The Breedings, as well as rapper and producer for Disturbia Music Group, Block McCloud.
According to Chuckie "The album draws on the seven years after a violent physical assault that left my jaw broken in two places, an event that would affect nearly every other human relationship that took place afterward. The album is dedicated to Ralph B. Prater, my close friend, music mentor, and unlawful attacker, who committed suicide in March of 2011. It is a reminder that for every one person who makes it out alive, more will die of heartbreak."
Chuckie Campbell lives in Buffalo, NY, where he writes short stories, poetry, and music. He is the founder and editor of Sunsets and Silencers, an online and print journal for the arts. When Esente Center Stage selected Chuckie Campbell as their emerging artist of the week, writer Peter Amara affirmed him as "super-lyrical" with words "that thrust" the listener "in the middle of the scenario," praising the rapper for his "intricate wordplay" and "incredibly fast flow."
His most recent project, More Die of Heartbreak, is heavily anticipated by fans and followers and features a number of established and up-and-coming acts, such as Cappadonna and Solomon Childs of the Wu Tang Clan, Block McCloud of Disturbia Music Group, Cole Jonique of Tate Music Group, and the Rock/Country brother/sister duo out of Nashville, TN, The Breedings.